Portfolio Wins 11th Straight Top Dealer Award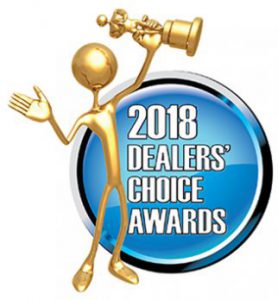 Portfolio, the nation's leading reinsurance program manager for automotive dealers, wins 11th consecutive top dealer award in Dealers' Choice Awards for vehicle service contract reinsurance. The Dealer' Choice Awards is national survey sponsored by Auto Dealer Today magazine. Portfolio earned this year's first place Diamond award, its 4th Diamond in the past 5 years.
"We strive every day to be the most dealer-centered company in the F&I business," commented Brent Griggs, President and CEO of Portfolio. "This year's top dealer award shows that we are meeting our dealer clients' needs for value, service, and overall quality. We are grateful once again that our dealers have voted us at the top, and will always apply ourselves to earning their continued confidence in us."
Chief Sales Officer Dan Haugen added, "I echo Brent's thoughts and will emphasize that this award is shared with our independent agents along with our Managing Directors and Reinsurance Specialists. We know that Portfolio agents are the face of our company in the stores every week. Their superb servicing of our mutual clients goes a long way to explaining our long winning record in the Dealers' Choice Awards. And, I will add, our quarterly meetings that are conducted by our Managing Directors and Reinsurance Specialists with our dealer principals also make an important difference in helping us earn this top award."
The survey was conducted over four weeks in May in an audited process where thousands of dealer principals and other dealership personnel scored their satisfaction with providers in 34 categories of products and services. Survey respondents are asked to cast votes only for providers with which they have firsthand knowledge and experience. Readers of Auto Dealer Today and F&I Showroom magazines were reminded regularly to submit their votes.
In addition to identifying their primary providers in each category, respondents must rate their providers in four qualities: (1) the product or service provided; (2) customer support and service; (3) the overall value for dollars spent; and (4) whether the dealer would recommend the provider to another dealer. The quality of the votes is weighted more heavily than the quantity in order to level the field for smaller providers.
The complete results and analysis will be featured in the Q4 issue of Auto Dealer Today. The complete list of winners can be found here. All award winners will be honored this year at the Industry Summit in Orlando, Florida, October 8-10.